Online course
How to reduce and overcome self-harm
Effective help for adolescents and adults
Overcoming and even stopping self-harming behaviours is possible with the right help and support – this inspiring online course gives you the essential insights and tools you need…
Course Factfile
How to reduce and overcome self-harm (Online)
Price includes course notes, handouts and life-long access
Please note – there is also an attended workshop version of this course which includes practical exercises and counts towards Part 1 of the Human Givens Diploma. This online course has additional multiple choice questions to help deepen your learning. If you take this online course, you can attend the in-person workshop at 50% off.

Helpful that real-life experiences were used as examples, trainer had excellent work-based knowledge…

Suicide Prevention Co-ordinator
Self harm and self-injury behaviours are sadly now very common, particularly among young people. It's a very emotive and sensitive subject for everyone involved; many find self harming stressful to work with and hard to treat. And self-harm doesn't just impact the individual themselves, it can badly affect the people around them too. But there is hope…
Why take this course
Emily Gajewski, psychotherapist and self-harm expert, is passionate about sharing her unique knowledge, skills and new insights with you. Her important training day demystifies the self-harming cycle, clarifies its causes and shows why we should not give up on anyone, even in the most apparently hopeless situations.
It is Jam-packed with essential information, proven techniques and helpful tips – you will hear from people who have been able to completely stop self-harming (or dramatically reduce it) and are now living fulfilled lives as a result of this approach.
This online course will provide you with the clarity you have been looking for – and enable you to create a cohesive and effective treatment strategy
Give those who are struggling with self harm the best chance of reducing and eventually stopping self-harming behaviours, improve their mental health and their outlook of life.
I work with self-harming teenagers a lot and learned valuable new tools on this course...

Sara Simon
What will you learn
A greater understanding of self-injury and why it occurs
What to do when someone discloses their self-harming behaviour to you
The essential Dos and Don'ts for teams and individuals working with people who self-harm
The latest guidelines around working with self-harm, including positive risk management and harm minimisation
The importance of differentiating between self-harming and a suicide attempt – and how to treat them both
The self-harm continuum – what tips us into self-harming behaviours
What to do if someone is threatening to self-harm
The common myths and stereotypes surrounding self-injury
Powerful techniques that will transform your effectiveness and a 'tried-and-tested' framework for improving wellbeing, drawn from profound knowledge about what people need to avoid mental and emotional distress and increase wellbeing
How chemical changes in the brain from self-harming behaviours can bring temporary relief from difficult emotions
Why there is often an addictive element to self-injury (insights from neuroscience)
How to approach the subject of self-injury with someone
A cohesive and effective treatment strategy for treating self-injury and breaking the destructive cycle of behaviour
Knowledge of the important skills needed for working with people who self-harm (these are practised on our attended workshop)
Enlightening filmed interviews and case histories which show how it is possible to help people, even in a very desperate situation, to live fulfilling lives again
Insights from a highly experienced tutor who has extensive hands-on experience of helping people successfully overcome self-harming
Ways to help people build resilience against future stressful circumstances
Tips on finding the most helpful coping strategies
How to help people create an alternative 'safe place' for themselves
Information that will reduce your own anxiety when working in this area
How to create an effective self-management plan and increase the individual's engagement with it
Important new information that will help you prevent self-harm
New confidence when making interventions with people who once seemed unreachable
Invaluable - it was like lifting a veil on the reasons for self-harm

Teacher
Who is this course suitable for?
The profound information and advice on this course is presented in a clear, practical way so that it is readily accessible and helpful to as many people as possible, including:
Health and welfare professionals, including: psychologists, counsellors, psychotherapists, mental health nurses, psychiatrists, student wellbeing officers, doctors, nurses, occupational therapists, social workers, health visitors, youth workers, outreach and support workers
School counsellors, teachers and other educational professionals
Parents and carers of someone who self-harms
Anyone who has a friend who is self-harming – or who works with vulnerable men and women in the voluntary sector.
This course is relevant to a range of self-harming behaviours including:
Self-injury
cutting, ripping or carving skin
burning skin
punching or hitting themselves
scratching or pinching (including dermatillomania)
poisoning themselves with tablets or liquids (to similar)
Over-eating and under-eating (anorexia or bulimia)
Biting yourself (dermatophagia)
Inserting objects into your body
overdosing, exercising excessively
pulling your hair (trichotillomania)
getting into fights where you know you will get hurt
What's included?
22 Videos

Multiple Choice Quizes

PDF Course Notes

Life-time access

CPD Certificate
Meet your tutor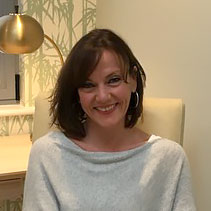 Emily Gajewski
Emily has worked for over 21 years as a therapist, helping people move on from even the most severe emotional difficulties.
The whole course was invaluable. It was well organised and the information presented was of great help and interest.

Support Worker
A really well paced course with lots of relevant practical information and advice. I loved the films - they really helped me to get an overview of the subject and clearly demonstrated the effectiveness of the approach – what amazing women. I'm very grateful to them.

GP
The whole day was very interesting with lots of material and time to try out ideas – gave me confidence I didn't have before.

Project worker