Paying by installments
If you would like to pay for a course by installments you can now use PayPal's PayLater option – simply click the relevant button at the checkout.  Alternatively, you can contact our friendly team – NB you will need to have paid in full by the time you attend the course.
How to book
Online
To book a workshop or online course, simply click the 'book now' button on the course page to add it to your shopping basket. For attended courses, you will first need to select your preferred town and date and enter the number of delegates you wish to book on.
When you're happy to proceed with your course purchase, click on the checkout basket (top right) and follow the instructions. You will be asked to create an account. This is the account you will also use to access any online courses you buy and view your bookings history.
You can pay by credit or debit card, or Paypal account if you have one, via the PayPal secure online payment page.
You will automatically receive a receipt for your booking from PayPal, followed shortly by one from the College. For attended courses we will also email you (within 1–2 working days) a confirmation letter, VAT receipt and map showing directions to the event venue. Please bring this confirmation letter with you on the day.
NB. If you don't receive your email confirmation, please check your junk or spam folder as it may have gone in there.
By phone
You can also book by calling us on: 0044 (0)1323 811690 with your credit/debit card details. Our friendly team are always happy to help and our office is open 9.00am–5.30pm GMT/BST, Monday to Friday.
Once your payment has been processed, we will email your confirmation and receipt (usually within 1 working day). If you've booked on to an attended event, we will also email you directions of how to find the venue. Please bring this confirmation letter with you on the day.
By invoice
If your employer is paying for your place/s and you need an invoice, we will need an official purchase order or letter of authorisation from your organisation (which can be emailed to us) detailing who we should invoice and where. We regret that we cannot invoice individuals for places.
Please note:
All bookings are subject to availability and our cancellation policy.

Diploma Course
For information of how to apply for Part 2 of the Diploma Course, click here.
If you would like to book a place on the week-long Part 3, please call the office on +44(0)1323 811690 Mon-Fri, 9.00am–5.30pm.
Prices
Attended courses
1-day: £198 per person
2-day: £396 per person
Your price includes tuition, course notes, refreshments, lunch and your accredited CPD certificate.
All attended courses must be fully paid for in advance, and are subject to availability. VAT is included in the above prices.
Enjoy 10% off when you book 5 or more courses at once our multiple bookings discount.
HG Diploma Fees – click here.
Online courses
Our diploma-linked online courses cost £159 each, which includes your course notes, CPD certificate and life-long access.  You can save 20% if you buy all 8 at once.  (Sign up to our newsletter to hear about other special offers.)
There are also free courses, and a selection of on-demand webinars and Delving Deeper courses available at various prices, please see individual courses for details.
General Information
Accredited CPD Certificates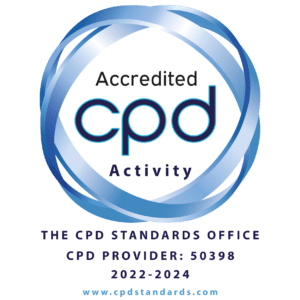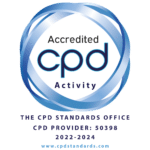 Accredited CPD Certificates of Attendance are issued to participants who attend the entire 1- or 2-days' training and complete the event's evaluation form. CPD certificates are emailed to online course students on successful completion of their course.
Change of dates or delegate names
We are happy to change the name of the delegate who is to attend a course upon notification. We will also change the dates/venue of your booking (provided the newly preferred date/location has availability), but in order to avoid an administration charge, you must give us a minimum of seven days' notice prior to the date of the initial event you had booked onto.
Cancellation Policy – attended workshops
We are happy to issue a credit note for a future course, minus a £15 administration fee, if you have to cancel your place on a workshop more than 7 days in advance, and are genuinely unable to attend due to unforeseen circumstances. If less than 7 days' notice is given, a cancellation fee of £60 per course day will be deducted to cover incurred costs.
In the unlikely circumstances of any of our courses being interrupted as the result of a natural or unforeseen disaster, or illness of the tutor, it will be rescheduled. If you are unable to attend on the rescheduled date, you will be given a full credit for a future event. We reserve the right to change tutors if necessary.
(For details of our cancellation policy for online courses click here.)
Please note:
(a) personal arrangements and expenditure, including travel, accommodation, hospitality and other costs and expenses incurred by you relating to an event which have been arranged by you are at your own risk (we recommend you consider taking out your own insurance to cover this if your costs are extensive), and neither we nor the relevant event partner(s) shall be responsible or liable to you for any wasted or unrecoverable costs or expenditure in relation to such personal arrangements, even if caused as a result of the cancellation, rescheduling or alteration of an event, and
(b) neither we nor any relevant event partner(s) shall be responsible or liable to you for any loss of enjoyment or amenity, including where an event has been cancelled, rescheduled or altered; and
(c) neither we nor any relevant event partner(s) shall be responsible or liable to you (and you will not be entitled to any refund) if admission to a venue or event is refused or revoked at any time as a result of your breach of any event partner's terms and conditions.
Please note
We reserve the right to remove a person from any of our courses if their behaviour is disrupting the learning experience of other students. This includes the 2-week Human Givens Diploma course (Part 2) and 1-week Part 3 course.  If a decision to remove a student from the Diploma Part 2 course or Week 3 is made, we will refund the fees for any remaining unattended days of the course at our discretion.
We also reserve the right to turn down a booking for any other live training (whether in person or online) from anyone who is known to be disruptive, or where there is due cause to suspect that they might be disruptive. In such circumstances the full course fee would be refunded.