'Human Givens' is a practical, holistic and scientific approach focusing on what individuals need to live mentally healthy and fulfilling lives.
It draws on the latest insights from neuroscience and psychological research, and combines this knowledge with proven therapeutic techniques from a wide range of approaches to provide highly effective interventions.
Its application is broad – encompassing mental and physical healthcare, wellbeing, education, social work, life coaching, the workplace, conflict-resolution and beyond.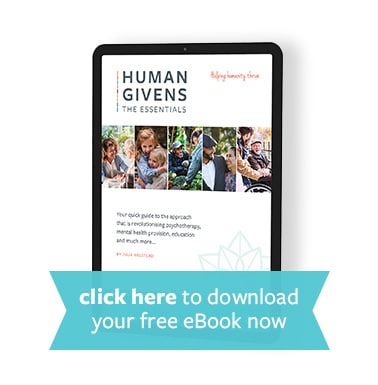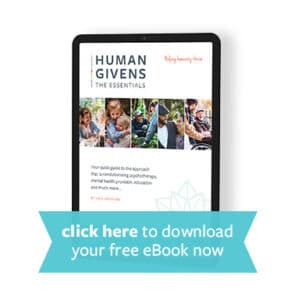 In the 20+ years since the term 'human givens' was first coined, the numerous ground-breaking new theories and rich psychological insights deriving from the approach and the work of its founders have helped 10,000s of people successfully overcome a wide range of mental health conditions – including: depression, anxiety disorders, stress, addiction, anger, pain, trauma, phobias – faster and more effectively than alternative treatments.
The HG framework for mental health and wellbeing gives us a powerful template that can be used to bring clarity to any human endeavour – explaining why difficulties arise and where the solutions lie.
I've found Human Givens books, online courses and in-person trainings to be extremely valuable; a seamless integration of best practices, current research, and creative thinking. Going through the Diploma training recharged my enthusiasm to practice and improved my mental health significantly.

John Bukenberger, LMFT, USA
Human Givens is truly remarkable. It can do in one or two sessions what other therapies take months and even years to try to achieve...

Dawn Patricia Walters, Therapist, Saudia Arabia
I can attest to the human givens approach – unless the 'givens' are listened to and respected, you cannot truly help others... this approach is universally applicable.

James Larocco, former Head of Multinational Forces of Observers, Sinai, and former American Ambassador to Kuwait