Every life lost to suicide is a tragedy…
Not just for the individual, but for everyone who knew and loved them too.
We care passionately about reducing suffering and the risk of suicide by raising awareness of what causes mental health problems and the best ways to overcome them. Every 10th September, on World Suicide Prevention Day, we readily join forces with the many other worldwide organisations and communities to share essential information and promote ways we can work together to create a world where fewer people die by suicide.
Depression can all too quickly spiral down into suicidal thoughts - together we can reduce the risk."
Since it was first developed over twenty years ago, the unique insights into the cycle of depression and powerful therapeutic techniques encompassed in the human givens approach to psychotherapy have enabled tens of thousands of people to overcome depression and move forward again with their lives.  At the heart of the HG approach is the crucial understanding that the vast majority of mental ill health occurs when our innate emotional needs are not being met adequately enough or we are misusing, or haven't developed fully, our innate resources.
It is a powerful, holistic approach that is tailored to each individual, focusing not on what's wrong with them but on what isn't working in their lives – that is what it then addresses, whilst empowering people at the same time to cope well with future setbacks.
There is much you can do to help yourself and others who are struggling and we've provided lots of useful resources below – Malcolm Hanson has also created a live online workshop for everyone working or living with people suffering distress. This inspiring, empathetic training shows you how to work successfully with anyone thinking about or planning suicide, or who may have survived a previous attempt.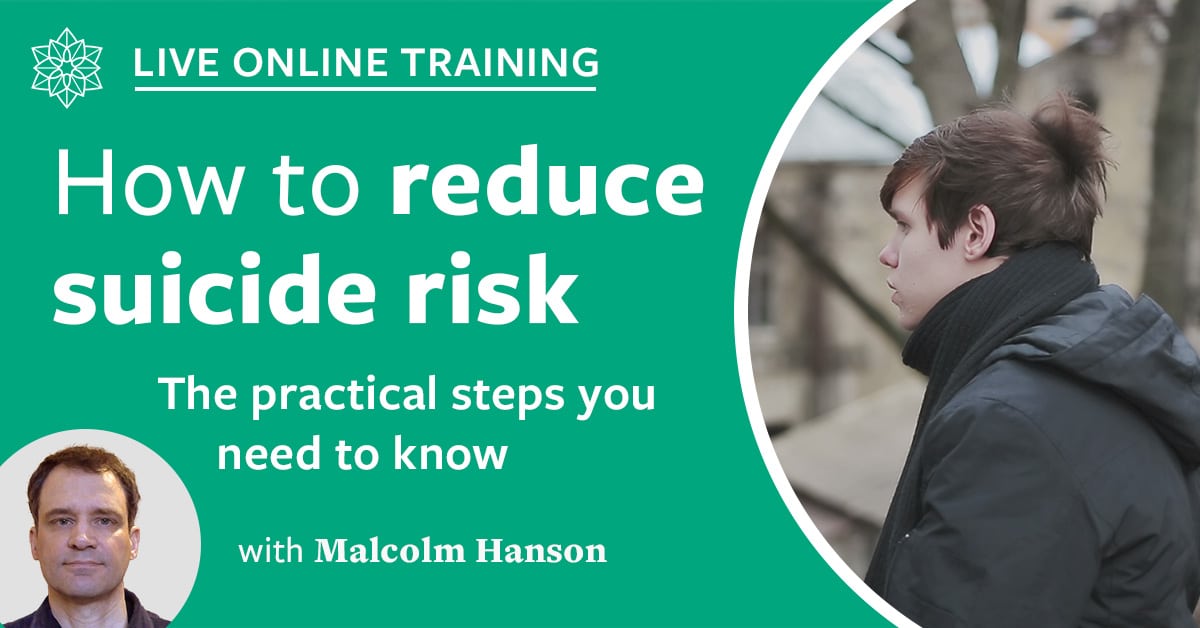 Help build positive change today…
Suicide is a global phenomenon  
More than 700 000 people die by suicide every year, which is one person every 40 seconds

77% of suicides occurred in low- and middle-income countries in 2019. 

Suicide accounted for 1.3% of all deaths worldwide, making it the 17th leading cause of death in 2019.
Source: World Health Organisation 
Human givens therapy helped me rebuild my life
Following many stressful experiences, a suicide attempt and diagnosis of Complex Post Traumatic Stress Disorder (CPSTD), I was struggling to cope – until my GP recommended human givens therapy. 
After two months of hardly being able to venture from my own house, I tried to take my own life. The suicide attempt failed and triggered a realisation that I had to face the issues head on, in order to prevent further suicide attempts and a complete inability to ever function again in life…  Read Martin's story
It is no understatement, or exaggeration, to say that human givens therapy has facilitated nothing short of many miracles for me"
Find out how a human givens therapist can help
Mental health and suicide crisis affecting young men in the UK
Following the sudden and unexpected death of his best friend, radio producer Joe Lyons, Roman Kemp took a closer look at the urgent issue of young men's mental health and explored in his moving documentary why increasing numbers are taking their own lives and the reasons why so many of them never ask for help. 
Wanting to find some answers in a difficult time, Roman explores what can be done to encourage people to seek help, what preventative action we need to be taking, and the lasting impact mental health and suicide can have on friends and families.
Watch the Roman Kemp documentary on catch up
"Roman Kemp's powerful documentary 'Our Silent Emergency' is a stark reminder not only about the prevalence of suicide but also its after-effects on friends and family, many of whom had no idea that their loved one was in crisis. The documentary gives a message of hope; that people on an individual level can make a difference in their daily life. The simple skills behind meaningful interactions, paying attention, getting our needs met and the therapeutic power of language belong to everyone and are not the preserve of mental health professionals." Malcolm Hanson, Human Givens Psychotherapist.
You might also be interested in