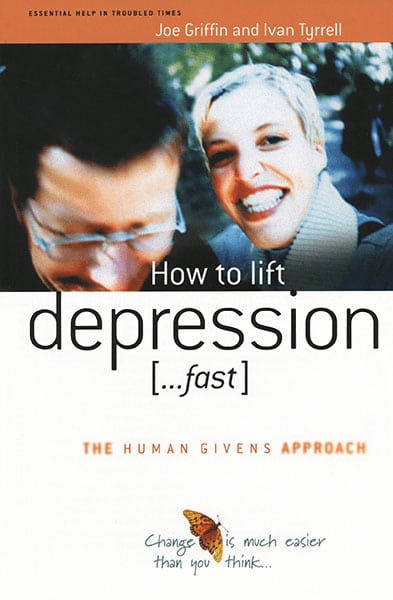 How to lift depression … fast
The human givens approach
by Joe Griffin and Ivan Tyrrell
Format: Paperback (200pp)
ISBN: 1-899398-41-4
This is one of the most startling and uplifting books about depression ever written – the 'essence of hope'.
Griffin and Tyrrell are the foremost teachers of effective psychotherapy for depression in Europe. Without 'psychobabble', false sentiment or jargon, they make it easy to understand the causes of depression and why so many of us are so vulnerable to it. More importantly, they describe how to overcome it. Thousands throughout the UK and Ireland have already benefited from their approach. Now you can too.
[This approach to treating depression] is absolutely the right way forward.

BBC Radio 4's 'All in the Mind'
'How to lift depression …fast' shatters many myths. It provides clear guidelines, with case histories, for helping people get out of depression, even those at high risk of committing suicide. Just reading it can raise your mood and put joy, pleasure and meaning back into life, even in the bleakest of circumstances.
This book answers vital questions, many not tackled before:
How to get out of depression quickly
Why depressed people wake up so exhausted
How worrying and dreaming are linked to depression
How to make your life meaningful
What harm antidepressant drugs can do to the brain
Why postnatal depression can also be lifted quickly
Why some common forms of counselling and psychotherapy often make depression worse
How to 'inoculate' yourself against depression.
Tell others about this book
As a GP I see many people suffering from depression, and have searched for years for a good book to recommend to them. At last I have found one ... written in a style which makes the ideas easy to understand and put into practice. I believe that the 'human givens' approach is a major step forward in helping people suffering from depression and other mental health problems.

Dr Gina Johnson
Everyone involved in administering personal therapy should read this book.

Nursing Standard
I recommend the book How to Lift Depression...fast. Rather than spending months and years exploring all the things that have gone wrong in your life, human givens therapists provide you with the tools, insights and support to turn your mood, focus and life around quickly.

Dr Mark Atkinson