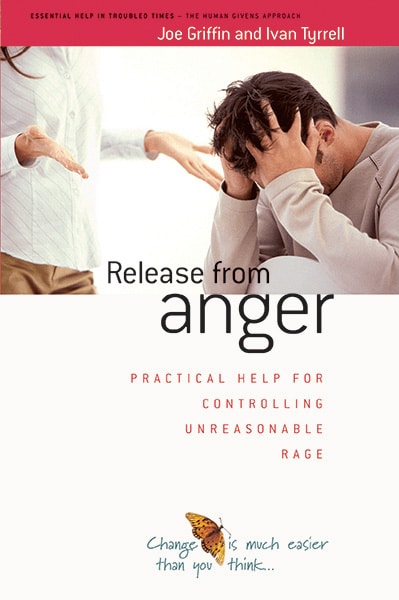 Release from anger
Practical help for controlling unreasonable rage
by Joe Griffin and Ivan Tyrrell
Format: Paperback (247pp)
ISBN: 1-899398-07-4
Are you struggling with anger outbursts or excessive rage – either your own, or someone else's? If so, you are not alone. Aggression, both verbal and physical, is on the increase in our society. Shedding light on this situation, Release from Anger explodes some common myths and gives you effective strategies to curb it.
It reveals important facts about the causes, effects, triggers and behaviour patterns of anger and aggression, and explains the difference between healthy anger – a natural survival strategy – and destructive anger.
Release from Anger is also packed with clear advice and practical examples of how to deal with inappropriate anger, whether yours or someone else's. It explains what happens, both mentally and physiologically, when anger suddenly erupts, looks at anger as an addiction and explains the reasons behind many compulsive outbursts. It also shows you how effective communication skills, verbal and nonverbal, can unlock the trance-like state of anger and defuse aggression in even potentially violent situations.
Vital information that could save your life
Why anger is essential for survival and what it does to our bodies
How excessive anger can affect our physical and mental health
How to avoid the common triggers for anger
Why venting angry feelings will not make anger go away but is actually more likely to increase it
How to predict anger outbursts in yourself and others
The connection between anger and depression, and anger and trauma
Why talking about angry feelings rarely helps, especially for men
The importance of effective communication skills
How to use your body language to reduce the emotional temperature of a situation.
Tell others about this book