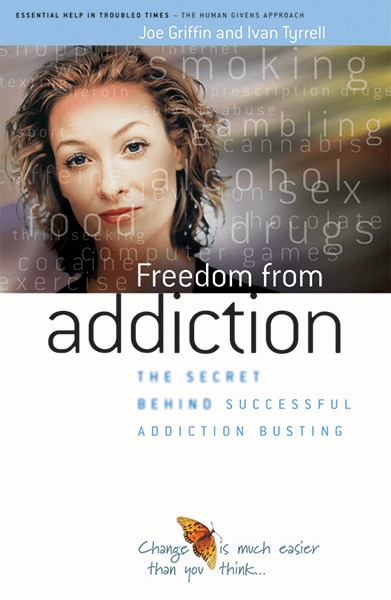 Freedom from addiction
The secret behind successful addiction busting
by Joe Griffin and Ivan Tyrrell
Format: Paperback (248pp)
ISBN: 1-899398-46-5
Exploding many myths, this book represents a major leap forward in the way we view and treat addictions – the new science-based insights it contains have already helped countless people to overcome a wide range of compulsive behaviours and take back control of their lives.
We are all vulnerable to becoming addicted to any activity or substance that gives us pleasure – but it is Griffin's new understanding of why this is so that has revealed the best ways to beat addiction.
Highly recommended. It sidesteps jargon, avoids the medicalisation of addictive behaviour, explodes the lies that maintain addiction and offers realistic, practical solutions.

Nursing Standard
If you want to overcome your own addictive behaviour – whatever it is – or are interested in helping others to overcome theirs, this down-to-earth, easy-to-read book gives the clear guidance and practical steps you need to do so. And the encouraging case histories, covering all kinds of addictive behaviours, show you how others have successfully stopped the behaviours that were harming them.
Vital new information to help you beat your addiction:
Why withdrawal doesn't have to be painful or difficult
How addiction stops us getting our emotional needs met
Why addiction is not a biological disease – or something that you have to live with for the rest of your life
How to make cravings painless and get rid of them permanently
How to see through the illusions addiction offers us
Why relapse is not a problem – and how to use what it teaches you to ensure success
How to enjoy natural 'highs' and get more satisfaction out of life as a consequence
How to protect yourself in the future and avoid switching from one addiction to another.
Also available from Human Givens College:
Online Course: 'Tackling Addiction: Understanding and Treating all types of Compulsive Behaviour'
One-day Course: 'Brief therapy for stopping addictions – a practical skills-based day'
Tell others about this book
An easy-to-read, empowering self-help guide for those considering themselves 'addicted' to anything... It breaks down simply the self-assessment needed for discerning problem areas and their development, adding relevant research in a jargon-free manner; with a fascinating explanation for how neurophysiology and 'pattern-matching' underpin symptoms like craving.

The Psychologist
Another excellent book from that ground-breaking team Griffin and Tyrrell ... a highly effective way of dealing with addiction.

Footnotes Magazine
Easy to read, clear guidance ... an ideal book to enable you to help yourself, your family, friends and clients.

Ruth Morozzo