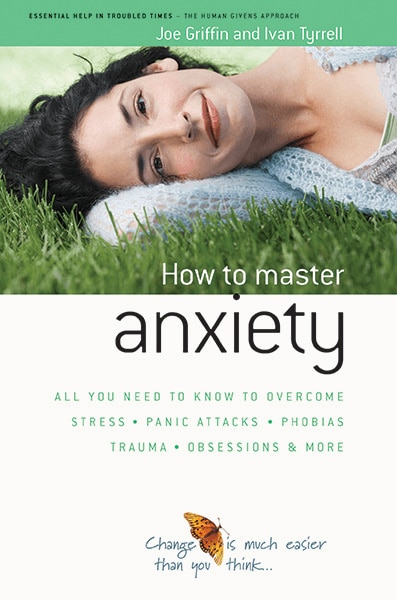 How to master anxiety
All you need to know to overcome stress, panic attacks, phobias, trauma, obsessions & more
by Joe Griffin and Ivan Tyrrell
Format: Paperback (250pp)
ISBN: 1-899398-81-3
This down-to-earth and easy-to-read book is a life-changer. Thousands of people, suffering from a wide range of anxiety disorders – from panic attacks and phobias to post-traumatic stress and obsessive thoughts – have already benefited from the many insights and psychological techniques it contains, and now you can too.
Packed full of useful information, How to Master Anxiety will not only throw light on the causes of your anxiety but, more importantly, show you how to control it. Its clear and practical advice is suitable for anyone who wants to conquer their own over-anxious behaviour – whatever it is – or to help others overcome theirs.
This book is a further wonderful aid. It throws, as it were, a rope to a drowning person. It gives the reader an immediate feeling that it is possible to take control again. And it is down-to-earth.

Ruth Morozzo, Footnotes Journal
With plenty of easy-to-learn techniques to help you relax, avoid 'black and white thinking' and change your perspective on whatever it is you fear, it also includes encouraging case studies to show how others have successfully mastered all kinds of anxious and phobic behaviour.
Essential information for every anxious person:
How anxiety and stress are closely related, how to recognise when you are under stress and what to do about it
What exactly is going on in your body when anxiety overwhelms you and why it reacts like this – understanding lessens the fear
A range of relaxation procedures to free up your brain and help you think more clearly
How to use the positive power of your imagination to manage your thoughts and feelings and change your experience of stress and in appropriate anxiety
A look at the three different levels involved in anxiety disorders
The natural survival mechanisms that you can harness to help you
Specific techniques for overcoming a variety of anxiety disorders, neutralising fears and other psychological traumas (including PTSD).
Tell others about this book