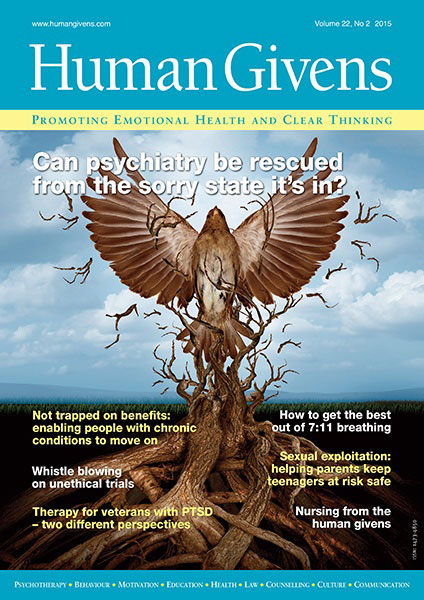 Volume 22, No 2, 2015
Human Givens Journal
Format: A4 Printed Journal (60pp) / Digital PDF Journal (60pp)
ISBN: 1473-4850 (ISSN)
Editorial:
Greed, duplicity – and a new dawn?
How we are: News, views and information:
'Dirty' clinical trials
stress and support
mindfulness and false memory
body language and trust
evolutionary explanation for feeling positive
CBT not working so well for depression
stroke and fatigue
gender bias in assessing creativity
psychological distance and relationships
concentration is catching
university-style Emotional Needs Audit
depressed people may choose sadness
drug withdrawal problems
reversing negative symptoms in schizophrenia
pain of caring for loved one with Alzheimer's
undesired effects of diagnostic labelling
feeling, but not seeing, blue
impact of emotional court testimony
ideology and threat
child porn
guilt-proneness and empathy
What it is that really counts
Pat Williams looks at the power of essential difference.
PTSD in veterans: the family perspective
Christine Lauritsen says families of veterans may not only need help themselves but be key in bringing help to their loved ones.
Taking the army out of the squaddie: a story of PTSD
Judith Shaw describes a challenging piece of work with a client.
Better to be human
Psychiatric drugs do more harm than good and can dehumanise, a recent conference heard. Denise Winn was there.
Time to rethink psychiatry
Denise Winn talks with Hugh Middleton about the state psychiatry is in and why the future could be very different.
Lessons in wellbeing
Sue Cheshire describes a course for people on benefits for chronic conditions that helped them to reclaim their lives.
7:11 breathing rediscovered
Miles Daffin unearths hidden depths to this calming technique.
Nursing within the NHS: how the human givens helps
Julia Desousa illustrates how the human givens approach has enhanced her ability to help patients.
Spiralling up
Karen Clark describes her creative work with parents of young people at risk of, or already caught up in, child sexual exploitation.
PLUS: Book Reviews