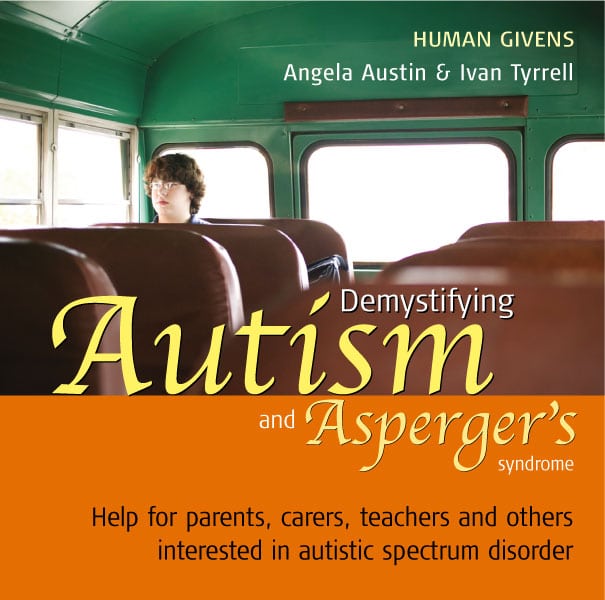 Demystifying Autism and Asperger's Syndrome
Help for parents, carers, teachers and others interested in autistic spectrum disorder
by Angela Austin and Ivan Tyrrell
Format: Digital Audiobook
ISBN: 978-1-899398-13-3
In this enlightening discussion, Angela Austin – who for many years ran a school for children with ASD – talks to Ivan Tyrrell about how the human givens approach brings clarity and effectiveness to both understanding and supporting those on the autistic spectrum.
The number of people diagnosed with Autistic Spectrum Disorder (ASD) is increasing; there are many reasons for this and much work is being done to investigate the causes of autism. However, for those who are dealing with children and adults with ASD on a daily basis, the question is, what do we do?
As the first Principal of Hillingdon Manor School, hailed for its effective pioneering approach in working with children and young people with ASD, and their parents, Angela has extensive knowledge of what works and why.
The approach she developed is based upon the human givens and, when commenting on the school, Ofsted said that it "is very effective in meeting the needs of the pupils", that "pupils and staff clearly all enjoy coming to school" and that "parents appreciate the close working partnership".
Angela, now retired from full-time work, practises as a human givens therapist, specialising in ASD with both children and adults. She is also an inspirational trainer. On this MP3 she shares the fruits of her experience, including:
What it means to have this complex condition
Understanding ASD-associated anxiety, depression and anger
Why having control is such an issue for people on the autistic spectrum
How to lower the stress levels of people with ASD
Why the human givens approach is so effective with those with ASD
Practical ways to connect and build trust