Improving mental health in Cardiff – at bigmoose
Based in Cardiff, bigmoose is a charity and non-profit coffee shop founded by father and daughter team Jeff and Chloe Smith. Jeff and Chloe are passionate about making the world a better place – and they work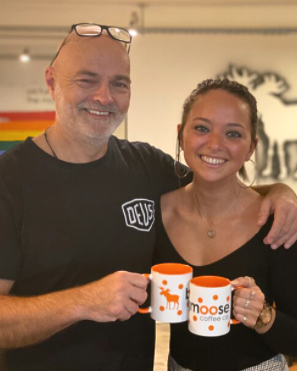 tirelessly to help people struggling with their mental health.
As well as running mental health awareness sessions, the charity offers free and discounted therapy sessions which are delivered by HG therapist Graeme Layzell.
Jeff and Chloe have been hugely impressed with the HG therapy Graeme has provided – and the impact it's had on those he has helped. After the first lockdown of 2020, they say:
We were told by five people that without our intervention they would have ended their lives. Due to early and impactful intervention 5 people were still alive. 5 families weren't grieving and the world still had these amazing humans in it. We could not get this thought out of our heads."
For us, because Human Givens therapists are just so impactful with the way that they work, we're seeing people only needing three or four sessions. That's where we feel we can make the biggest difference," Chloe says.
You can read more about the project here, including how to donate, and we'll keep you updated on their progress – if you'd like to get involved, you can contact bigmoose here.
UPDATE!
Good news – bigmoose has already raised over £42,500 for Project 1 million through their JustGiving page. All money raised will be invested into delivering therapy, early and timely interventions. The goal is to help people with their mental health, prevent suicide and reduce homelessness.
Please do help and spread the word if you can.