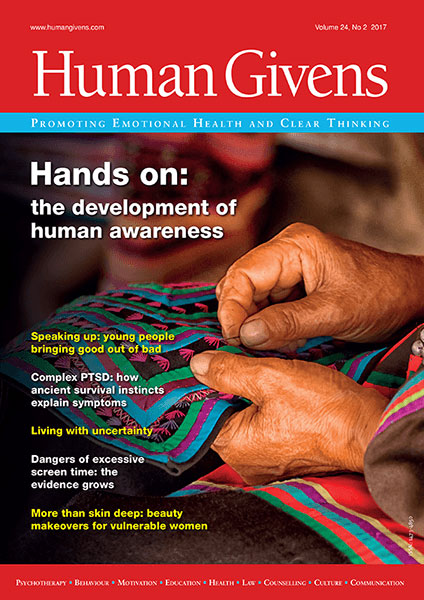 Volume 24, No 2, 2017
Human Givens Journal
Format: A4 Printed Journal (60pp) / Digital PDF Journal (60pp)
ISBN: 1473-4850 (ISSN)
Editorial:
Helping hands
How we are: News, views and information:
Profitable organisations
Universal responses to stories
'Low intensity' CBT relapse rate
Ingenious way to help hoarding
The placebo effect of SSRIs
Terrorists' morality
How writing can reduce stress
New discoveries about 'split brain'
Messaging people with depression
Schizophrenia 'on the way out'
Breathing and perception of danger
Gut response to PTSD
Therapy for fibromyalgia
Anxiety and alcohol
When feeling pain may be helpful
Hidden language disorder
How sat navs affect memory
Alcohol and impact on attention
Bad job worse for health than no job
Functional neurological disorders
How power corrupts the brain
Memory
Brain and brawn
New findings about 'calming' neurochemical GABA
Them and us
Suicide and young people
When poor sleep is not a problem
When 'silly' makes sense
Pat Williams on the impact of childhood patterns, imaginings, and stories that open a door to so much more.
How the human hand helped evolve our sense of self
Ezra Hewing explores the link between the evolution of fine motor skills and advanced cognitive development.
LEARNING CURVE
DBT therapist Kristina Faulkner describes her experience of the power of human givens techniques.
The significance of stillness
Stephen Porges tells Denise Winn what his discovery of a bodily defence system older than fight or flight teaches us about trauma.
The downsides of being digitally native
Aric Sigman explores the negative effects on young people's mental health of excessive screen use.
Living with uncertainty
In advance of the 2018 human givens conference next May, Ivan Tyrrell reflects on its theme.
Speaking truth to power
Chris Dyas describes an action group that helps young people bring some positives out of experience of harm.
Beautiful outside and in
Lee Pycroft shows how a beauty makeover can trigger self-care and self-respect in vulnerable or traumatised women
PLUS: Book Reviews