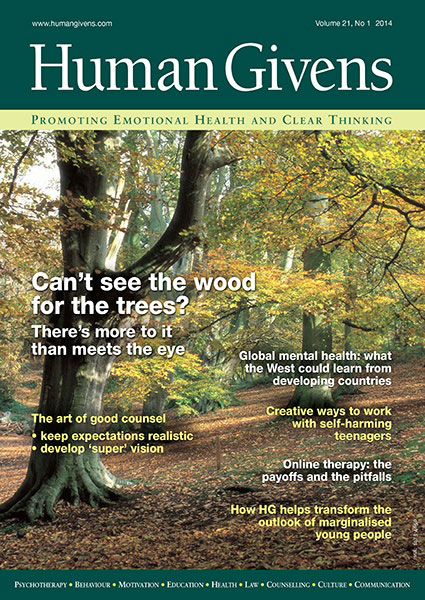 Volume 21, No 1, 2014
Human Givens Journal
Format: A4 Printed Journal (60pp) / Digital PDF Journal (60pp)
ISBN: 1473-4850 (ISSN)
Editorial:
The many facets of morality
How we are: News, views and information:
Diagnosis of post-traumatic stress disorder
how best to practise
chivalrous acts
lonely bacteria
children's amnesia
psychological side effects of antidepressants
launch of the Council for Evidence- Based Psychiatry
analysis of a dream
older eyewitnesses
taking notes
avatars' effects on behaviour
suicide risk and confidentiality
compliance and discomfort
anxiety in diabetes sufferers
resources in the poor
public speaking
warmth and cooperation
Knowing where you belongs
Pat Williams extols becoming a fully paid-up member of the human race.
When you can't drain the swamp
Through three moving stories, Chris Dyas shares his methods for working effectively with self-harming teenagers.
LEARNING CURVE
Reflections on therapy
Julian Penton highlights what he has learned after years as a human givens therapist, supervisor and trainer.
'Super' vision
Rob Parkinson suggests ways for therapists to keep a heightened sense of awareness.
Going global with mental health
Vikram Patel tells Denise Winn what the West can learn from developing countries in working towards mental health for all.
You or I, here and now, there and then … if only
Denise Winn explores the unexpected ways in which our perspectives on the world can be manipulated.
Online therapy
Linda Singer explores the positives and the pitfalls of technology-assisted counselling.
Growing up and moving on
Ignite Trust works imaginatively with marginalised young people. Lynne Burke explains its success.
PLUS: Book Reviews, Letters.