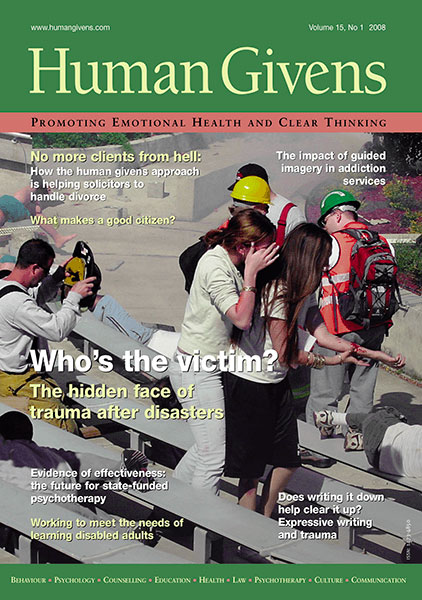 Volume 15, No 1, 2008
Human Givens Journal
Format: A4 Printed Journal (48pp) / Digital PDF Journal (48pp)
ISBN: 1473-4850 (ISSN)
Editorial: Randomised – or just random?
How we are: News, views and information:
Human nature and treatment trials
soldiers and PTSD medical errors
cultural effects on perspective
alcohol and memory
the effects of 'voluntary' care
antipsychotic drug misuse for learning disabled adults
depression in Europe schizophrenia without drugs
reading support
time and money stress at work
cognitive dissonance
how to swot
stalking psychotic logic
letting go of the 'flow'
The shifting sands of the Dialogue
Sticking to what's in vogue blinkers us to what's real, says Pat Williams.
No more clients from hell
Family solicitor Andrew Baines explains how the human givens approach has transformed the service he offers clients.
Seeing is believing
Annette Watts describes the impact of guided imagery on treatment for addiction.
The wrong write stuff?
Denise Winn looks at the copious research findings on whether writing about trauma helps physical and mental health.
PTSD, by any other name
International expert David Alexander talks to Denise Winn about the challenges in treatment for psychological trauma.
Enhancing the lives of learning disabled adults
Sean Gray shows how working from the human givens approach is changing the lives of learning disabled adults.
What makes a good citizen?
Do young people care about social issues? Helen Haste explores the challenging questions raised by citizenship education.
The future for state-funded psychotherapy
Bill Andrews reports from a high-level conference – and it could be good news.
PLUS: Book Reviews, Letters.