Managing the unexpected – the perks and challenges of remote working in the tropics
Roberta Hutchins
My supervisor, Véronique Chown, suggested I write a little something for the newsletter to share my experiences of the last few months working remotely as an HG therapist in Barbados.  I hope you find it interesting…

Last summer I came across a news item in my Facebook feed that triggered a course of direction in my life that I would never have thought of without the onset of the COVID-19 pandemic and the move to working online. Barbados, which was COVID free at the time, was initiating a scheme to encourage remote digital workers to come to Barbados as they needed to boost their tourism-reliant economy with longer stay visitors with short stay tourism essentially on its knees. Having never really considered visiting the Caribbean before, this somehow caught my imagination and over the following few months developed into a plan that despite all odds came to fruition in November last year.
Prior to COVID I would never have considered working online with clients, or indeed running my herbal medicine practice or teaching my yoga classes online as a viable alternative to seeing people in real life! But from last March, as this became the only option, I found that it works surprisingly well in all those areas. So, assured of excellent internet speeds, I decided to take my business abroad with me for six months in Barbados. I packed up my laptop, carefully anonymised client notes, camera, tripod and lights for teaching yoga and everything else I could possibly need for 6 months, including a good supply of dark chocolate and mosquito repellent …!
It turned out to be a race against time to get to Barbados and we found ourselves on the last flight out before the November lockdown. Once in Barbados it took a while to acclimatise to working in a room at 30 degrees with no air conditioning; it turns out working in the heat is somewhat different to being on holiday in it! From the first week here I was seeing HG clients and herbal medicine patients on Zoom, just as I had been from my office at home, and teaching my yoga classes online, albeit now having to get up at 4.40 a.m. every Wednesday in order to run my classes at their usual UK times due to the time difference. I also work for two herbal medicine organisations as a Company Secretary and an Editor so I was kept pretty busy from the get go. This was perfectly complemented however with an improvement in quality of life. Being able to walk to the beach after work every day for a swim was a great way to care for myself and keep my self well resourced as a therapist.
Seeing HG clients online has continued to work well throughout my time here. I decided it was not relevant for my clients to know my whereabouts, no more than knowing anything else about my personal life. And I suspected it would not enhance rapport for them to know I was in Barbados whilst they were struggling through a cold, dark, wet lockdown winter in the UK. I sensed it would make it harder for them to feel that I was entering their model of reality if mine was sounding rather exotic! So I close the curtain behind me to obscure the palm tree and pop on a top with sleeves! Interestingly none of my HG clients have commented on my whereabouts at all, but I did have one of my herbal medicine patients who was struggling with the dark winter say she just wished somebody would put her on a plane to Barbados!
We had a fairly free couple of months while there was no COVID on the island where the challenges were mainly working in the heat and avoiding catching Dengue fever from the mosquitoes. However, things changed on New Year's eve as COVID escaped from incoming tourists into the community and we entered a curfew and then progressive lockdown. February brought a month where we were only allowed out to exercise between 6 am and 9 am and only allowed out at other times for strictly essential reasons. This itself turned out to be a blessing in its own way as it got me into early morning rising (not my natural state) and walking before breakfast every day which has been a practice that I have continued since then and truly benefit from. It has been interesting from an HG perspective, looking at how to meet needs while living in lockdown in a completely new country where we knew nobody. The early morning beach walkers became our community and some became close friends.
The day Véronique emailed to ask if I'd write something about my experiences here a volcano had begun to erupt explosively on the nearby island of St Vincent, and Barbados began to be covered with volcanic ash. This has been another great opportunity to put HG techniques into personal practice in order to keep well resourced on a personal level to maintain sufficient capacity to continue working with clients. After 9 days of being shut inside a hot flat with all the windows closed not being able to use any air conditioning, things are looking rather better now as we can get back outside. There has been no new ash fall but the ash continues to blow around everywhere in the wind. It's fortunate that due to COVID everyone already has the all-important masks to hand! During the initial few days of the eruptions the skies were dark and we were faced with near constant volcanic ash fall, with the seismologists predicting this could go on for days, weeks, months or even a year! At this point 7-11 breathing was a good support. It quickly became necessary to look at the use and misuse of the resource of imagination. Some imagination was needed to think through all our options in the circumstances, particularly regarding staying or leaving the island as we were due to extend our stay.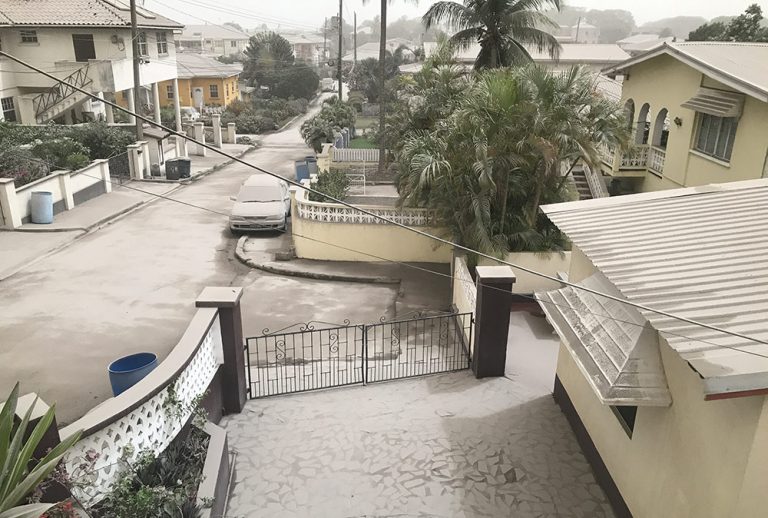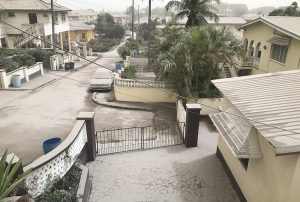 We needed to take into account the fact that Barbados has somewhat limited water supplies with some people already having water outages and that agriculture on the island was being significantly harmed by ash fall. But more importantly the island imports 90% of its food by air and sea, and both airport and seaport were closed for over a week and at that time showed no signs of being able to open imminently. It was interesting to see on social media other expats setting up an 'Escape from Barbados' Facebook group, panicking and paying large sums to be taken by catamaran or speed boat to other islands to fly out from there. UK and US nationals were being evacuated by boat from St Vincent but there was no current need to evacuate from Barbados. Planning without catastrophising is an interesting art it seems! After deciding to cancel the visa extension appointment and head home as planned at the beginning of May, I'm now enjoying walks back on the beach again before and after work and hoping for a last few days' enjoying the island. But the volcano is far from asleep yet! The first flight back to the UK got cancelled at the last minute and delayed until the next day as the volcano erupted again, although fortunately the ash went the other way this time! So it will be an ongoing case of adapting to moving goal posts and taking things day by day, keeping as well resourced as possible in the midst of it.
I see myself as very lucky as the people on St Vincent have been having a terrible time, swamped by ash and having had to evacuate half of the island, with no running water for days. Unlike a storm or many other natural disasters, the volcano is predicted to carry on for an undefined period of time leaving people displaced and traumatised with no way of predicting exactly when the problem will end. The ongoing nature is rather like COVID, only in this case people are not able to be safe at home as so many are displaced in shelters, with friends and family or even relocated to other islands. Homes have been destroyed or cannot be returned to while the volcano is still on red alert. They at least appear to have a superb Prime Minister who has amazing rapport with all the different kinds of people on that island and who really seems to care. Barbados is also blessed by having a wonderful female Prime Minister who has led this country through the COVID pandemic and volcanic ash troubles with amazing leadership and rapport with the people.
Have I fallen in love with the island? Absolutely yes. Do the wonderful friendly people, the wildly varied coastlines and beautiful beaches, the stunning tropical gardens, fresh fish market and fabulous organic vegetable suppliers outweigh the challenges of volcanic ash, mosquitoes carrying Dengue fever, rough seas and the arrival of piles of sargassum seaweed meaning daily swims became daily walks instead? Absolutely yes. Would I do it again? Definitely. Would I do it again before La Soufriere volcano is guaranteed to be dormant again? I'll take an 'ash check' on that and decide when I'm safely back at home!
---
Roberta is now continuing her HG practice back in the UK, to view her therapist's page, click here.