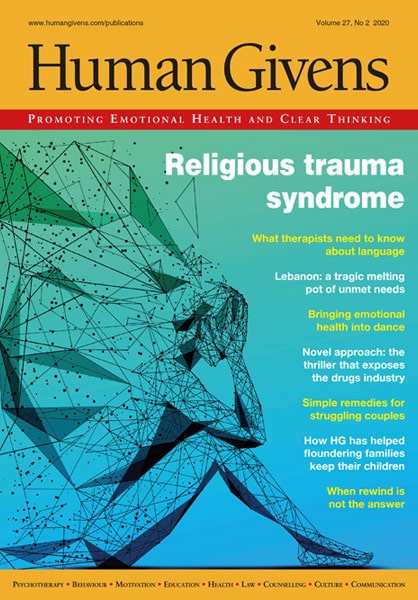 This packed edition features the story of Stevie Noah, who describes how human givens understandings have helped her cope with religious trauma syndrome. HG tutor and therapist, Jennifer Broadley, demonstrates how basic HG principles and practice can quickly help couples struggling with their relationships. Emma Grey shows how HG helps her to help families at grave risk of losing their children to the care system and John Bell reflects on how the Lebanon, his homeland, has been crippled because innate human needs have been ignored.
You can order your copy today.
Available in printed and digital formats

With a valuable, extensive round-up of the latest research, inspiring articles, book reviews, interviews and more, the HG Journal is a great way to keep up-to-date.
A must-read for anyone interested in psychology, human behaviour, mental health and wellbeing – it covers many fields not only psychotherapy, education and counselling.
No adverts means every page is useful or thought-provoking – and you'll also discover how people from different fields use HG to transform the lives of those they work with…
I love this publication for its scientific content and unbiased writing. It's very rare to find any organisation which gives such balanced and interesting information regarding human behaviour and emotional support.


A Murray