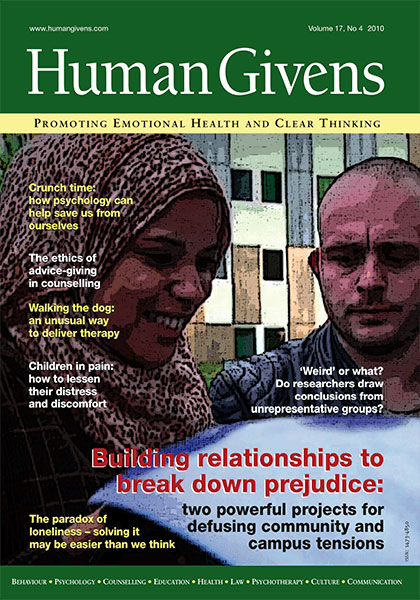 Volume 17, No 4, 2010
Human Givens Journal
Format: A4 Printed Journal (48pp) / Digital PDF Journal (48pp)
ISBN: 1473-4850 (ISSN)
Editorial:
Balancing act
How we are: News, views and information:
'Weird' people
depression and disgust
when clean equals pure
intensive care and PTSD
when young meet old in residential care settings
vitamin D and schizophrenia
cannabis and memory
how charisma affects judgement – badly
physical dangers of lithium
incest taboos
talking on mobile phones telescopes attention
self-harm among black women
help for south Asian women with depression
brain sex
how sight affects the immune system
alcohol and left-handers
How to make friends across the centuries
Pat Williams distinguishes between sharing ideas – and stealing them.
"Be subversive – build bridges"
Gwen Griffith-Dickson and Jonathan Smith describe two exciting projects that are helping defuse religious tension.
To advise or not advise: that is the ethical question
Sam Gerrard explores the cases made for directive and non-directive counselling and arrives at his own conclusion.
LEARNING CURVE
Toby Cann finds that the human givens can help him deliver personal social education (PSE) more successfully to teenagers.
Humanity on steroids
Robert Ornstein discusses with Denise Winn how we can use psychology to help curb human excesses and protect the planet.
Walking the dog
Denise Winn describes an unusual way she sometimes carries out therapy.
Helping a child in pain
Paediatric pain expert Leora Kuttner updates understandings of children's experience of pain and ways to reduce it.
Wanting connection, fearing rejection: the paradox of loneliness
Gale Lucas reports research which shows how the mindset that causes loneliness can be switched in an instant.
PLUS: Book Reviews, Letters