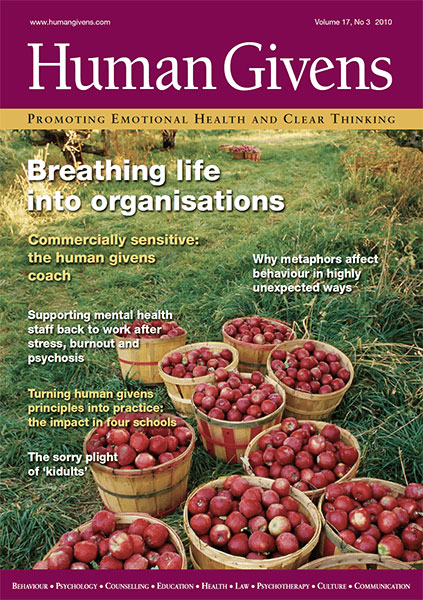 Volume 17, No 3, 2010
Human Givens Journal
Format: A4 Printed Journal (48pp) / Digital PDF Journal (48pp)
ISBN: 1473-4850 (ISSN)
Editorial:
The medium and the message.
How we are: News, views and information:
How sense of touch affects actions
positive expectation in negotiations
delirium in hospitals
research bias
memory
youth clubs and self-esteem
power napping
vulnerable children
lie detection
child sex offenders and empathy
Phineas Gage's brain
The sad plight of the kidults
Pat Williams considers why young adults may so often remain childish and confused.
Breathing life into organisations
Organisations are living social organisms; if their needs are met, they will thrive, says Joe Griffin.
Connecting to the world of business
Bart McEnroe describes how he came to use human givens principles with commercial clients, and the positive effects.
Business talk
John Halker ensures that he speaks the language of his corporate clients when he introduces human givens ideas.
The human givens coach
Des Rice illustrates what the human givens approach has added to his existing coaching skills.
The new zeiteist
Joe Griffin and Ivan Tyrrell discuss the guiding role they see for human givens in today's troubled times.
"All the same needs"
Véronique Chown and Renée van der Vloodt show how therapists without business backgrounds can still help businesses.
How schools are using the human givens approach
Four headteachers describe the impressive effects that they are achieving.
Images for recovery
Sarah Worsley-Harris works with NHS staff suffering from stress-related ills such as depression, burnout and psychosis.
PLUS: Book Reviews, Letters