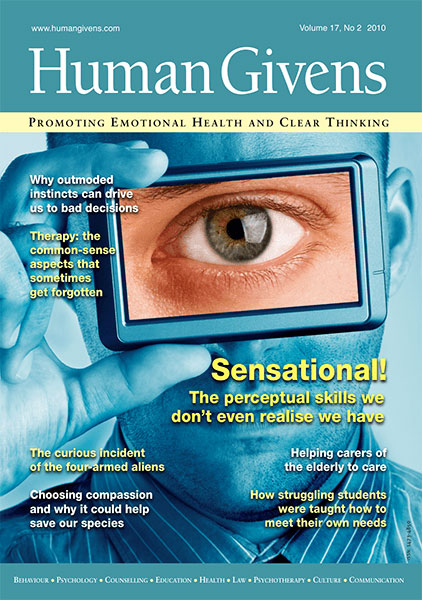 Volume 17, No 2, 2010
Human Givens Journal
Format: A4 Printed Journal (48pp) / Digital PDF Journal (48pp)
ISBN: 1473-4850 (ISSN)
Editorial:
Different views, different needs.
How we are: News, views and information:
Stopping smoking
when clients deteriorate
paroxetine and breast cancer
emotional memories and repression
ADHD and creativity
chronically ill children
exam success
bipolar disorder and high grades
CBT self-help that can harm
cheerful exercise
insomnia
materialism
schizophrenia: another labelling effect
volunteering
excluded autistic children
'social flow'
and more…
The cost of coming in from the cold
We so badly need our 'mad' poets, says Pat Williams.
Human givens: back to the basics
Farouk Okhai says the organising ideas that underpin this approach to therapy sometimes get overlooked.
Meaningful pastimes – and past times
Adele Stancliffe shows how carers can be helped to enhance the lives of elderly people in care homes.
The curious incident of the four-armed aliens
Renee van der Vloodt describes how careres can be helped to enhance the lives of elderly people in care homes.
Patterns of perception
Lawrence Rosenblum talks with Denise Winn about our fascinating and unconscious multisensory abilities.
Choosing compassion could help us survive
Pat Williams looks at what is known about our compassionate instinct – and how we can strengthen it.
Stop the war!
Deirdre Barrett says humans are so violent because our instincts are out of synch with modern-day living.
Rehearsing success
Paul Dow shows struggling students how to meet their needs through using the human givens approach.
PLUS: Book Reviews, Letters