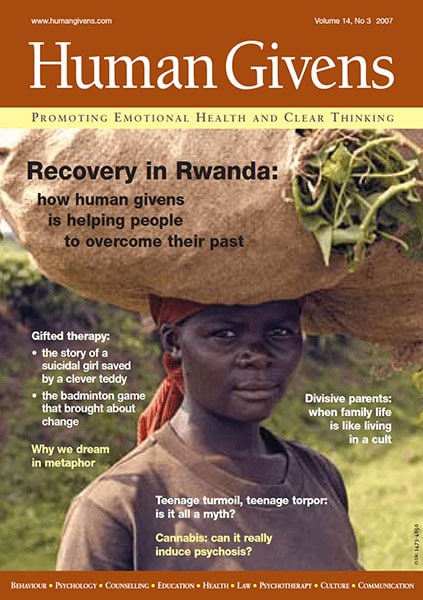 Volume 14, No 3, 2007
Human Givens Journal
Format: A4 Printed Journal (48pp) / Digital PDF Journal (48pp)
ISBN: 1473-4850 (ISSN)
Editorial:
Powerful methods required
How We Are: news, views and information
Dreaming in metaphor
tricks of the eye: the role of attention
giving to charity
teenage problem talk
effects of beliefs about health and fitness
travelling fellowship
human givens effectiveness study
visualising success
A&E staff and self-harmers
self-help depression books versus CBT
'couple' carers
work-related mental ill health
Always something behind it…
Pat Williams takes a wry look at conspiracy theories.
"There was no place of safety": PTSD in Rwanda
Maarit Brooks and Carly Raby describe their trip to Rwanda to spread human givens skills for dealing with post-traumatic stress.
Children of the genocide
Lorraine Debnam describes her experience of working with Rwandan street children and their helpers.
A game of badminton
David Grist illustrates how working from the human givens approach generates creative solutions.
The cult of parenthood
When one parent turns a child against the other parent, the effects mirror those experienced in cults. By Amy Baker.
The artefact of adolescence
Robert Epstein tells Piers Bishop why 'adolescence' is an artificial – and harmful – modern invention.
TALKING POINT
Iain Caldwell considers whether cannabis really does cause psychosis.
Thinking outside the toybox
How a teddy bear and some packs of cards helped a girl decide she wanted to live instead of die. By Chris Dyas.
PLUS: Book Reviews, Letters.