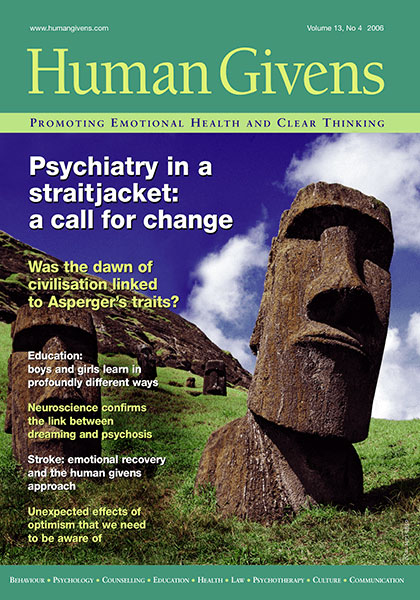 Volume 13, No 4, 2006
Human Givens Journal
Format: A4 Printed Journal (48pp) / Digital PDF Journal (48pp)
ISBN: 1473-4850 (ISSN)
Editorial: 
Evolved thinking
How We Are: news, views and information:
Psychosis and dreams
the closed-eyes effect
explaining savant-like skills
music in your dreams
surviving disasters
violent drivers
power of prayer in healing
numeracy and judgement
how work mates improve our work
a story to learn from
males self-harm too
unexplained symptoms
unmet needs and suicide risk
hemisphericity
personality changes in young relatives of schizophrenics
help for hearing voices
Ins and outs of the virtual life
The virtual and the real have a way of changing places behind our backs, says Pat Williams.
Thinking outside the boxes
It is time for psychiatry to stop 'fitting' people's distress into questionable diagnostic categories, argues Dr Farouk Okhai.
School's out — of touch
Dr Leonard Sax says gender differences in learning are more profound than realised — and the education system must catch up.
Autistic tendencies: the consequences for our culture
Professor Michael Fitzgerald talks with Joe Griffin about the powerful positive — and negative — effects of autistic thinking.
Going for gold
Suzanne Segerstrom has found that an optimistic outlook can have some unexpected effects.
Working with stroke from the human givens approach
Jim Tapper explains the part played by met and unmet needs in degree of impairment from stroke.
PLUS: Book Reviews, Letters