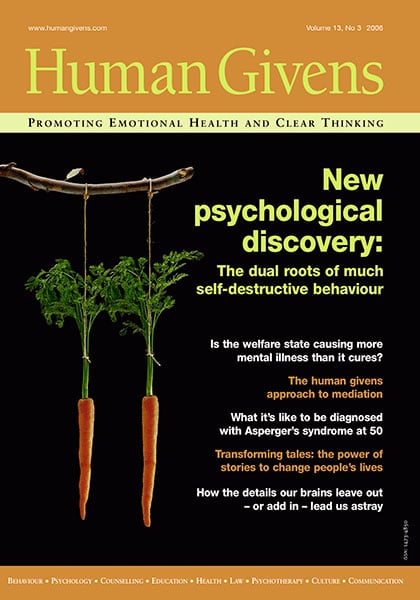 Volume 13, No 3, 2006
Human Givens Journal
Format: A4 Printed Journal (48pp)
ISBN: 1473-4850 (ISSN)
Editorial:
All change, please
How We Are: news, views and information
Self-system therapy
depression and light
lying to people with dementia, and ways to make life better
aggression and women
maternal stress and baby's intelligence
different ways of dealing with dread
season for suicide
music and pain
dangers of assumptions
focus on psychosis
when men take risks
'Letting go' needs no time at all
Pat Williams considers the gift of time travel.
Molar memories
A previously unidentified primitive survival mechanism explains many inappropriate behaviours, suggests Joe Griffin.
The tales we tell
Stories have the power to change lives. By Rob Parkinson.
The welfare state we're in
James Bartholomew tells Ivan Tyrrell how the welfare state has changed our culture in adverse, unexpected ways.
Fair as well as middling
Peggy Nicholls makes use of her human givens counselling skills in her work as a mediator.
Becoming an 'Aspie'
Stephen Blakey describes what it was like to discover at 50 that he had Asperger's syndrome.
The blind spots in our mind's eye
What our brains add in and what they leave out can explain many of our misjudgements. By Professor Daniel Gilbert.
PLUS: Book Reviews, Talking Point, Letters