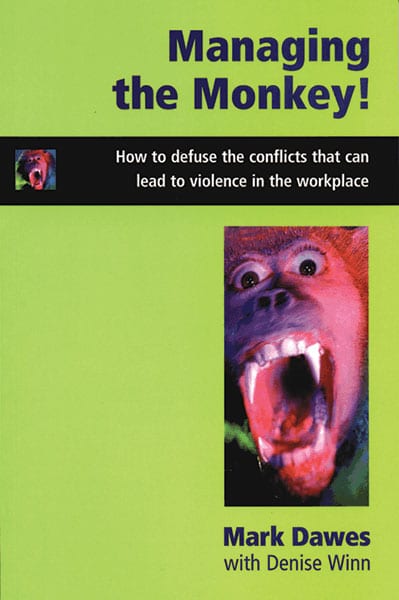 Managing The Monkey
How to defuse the conflicts that can lead to violence in the workplace
by Mark Dawes with Denise Winn
Format: Paperback (148pp)
ISBN: 1-899398-02-3
Serving the public has never been more dangerous. One in five workers are violently attacked or abused at work every year, according to latest figures, with younger women at highest risk.
Although many employers are now trying ways to deal with these growing difficulties, few have effective strategies and many are going about it the wrong way.
In this practical book, vividly and amusingly written and packed with case examples and guidelines, Mark Dawes shows how to prevent conflict escalating out of control when dealing with angry customers, patients and clients — and, if it's too late for that, how to handle even the most frightening of confrontations safely.
Drawing on what is known about the way the brain works, he explains why traditional techniques for creating rapport and communicating with aggressors fail. He also shows how the impact of particular working conditions and cultures can affect behaviour, increasing risk to the public as well as workers, and provides some frightening evidence of how and why we may underestimate our own strength.