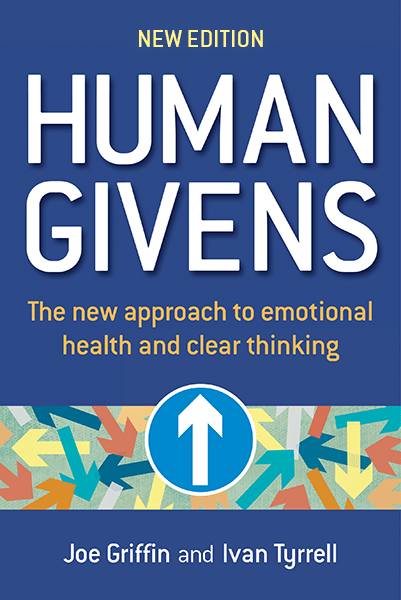 Human Givens
The new approach to emotional health and clear thinking
by Joe Griffin and Ivan Tyrrell
Format: Paperback (416pp)
ISBN: 1-899398-31-7
Special offer
This fresh edition of Human Givens contains a wealth of new material* that will enhance its already considerable reputation. The book answers countless questions.
Deriving from the rapidly growing human givens approach to emotional health and education, this rich body of psychological knowledge will strike a chord with any lively mind. The wealth of stories and information it contains will help you improve the quality of your life and the lives of those around you.
A quiet revolution

New Scientist
The authors exquisitely describe one of the most important psychological insights of our age: how we are all born with a rich natural inheritance – a partially formed mind containing a genetic treasure-house of innate knowledge patterns: the 'human givens'. We all experience these givens as physical and emotional needs, powerful forces that must be satisfactorily met in our environment if our minds are to unfold and develop to their fullest potential. How these innate patterns connect up with the world, and unfold in it, determine our own and our family's emotional health and happiness – as well as the maturity and humanity of the society we create around us.
A wonderfully fresh and stimulating view of dreaming, evolution, and human functioning. Human Givens also provides both an encompassing model and practical, specific applications to enhance the effectiveness of psychotherapy. It will deepen and widen every reader's perspective.

Arthur J. Deikman, M.D., Clinical Professor of Psychiatry, University of California
This book explores these human givens and looks at what each child and adult needs from the environment in order to develop well. It suggests that, as a society, we are unwittingly damaging or squandering our natural inheritance. This results in rising levels of mental distress, such as depression, anxiety, psychosis, addiction and an explosion of primitive greed behaviours. But Human Givens also explores startling new scientific ideas and findings about how the mind works, which show us that we can overcome these distressing conditions much more easily than previously thought.
If our society is to progress and evolve further, the inspiring body of knowledge set out in this book will be at the heart of the process.
*Includes a NEW CHAPTER on the biological basis of context blindness – caetextia – that blights the lives of millions.
Tell others about this book
Harnessed between these pages are scientific insights and practical techniques of sufficient power to completely revolutionise our approach to parenting, teaching and the caring professions. I wholeheartedly recommend Human Givens to any individual with a burning interest in how life works and can be helped to work better."

Dr Nick Baylis, Lecturer in Positive Psychology, Cambridge University
Real breakthroughs in the behavioural sciences are rare, and it's smart to be aware of hype. But not all scientific progress is incremental. Sometimes, as in the germ theory of disease, it's exponential. Griffin and Tyrrell's contribution advances psychology as much as the introduction of the Arabic numeric system with its zero digit advanced mathematics.

The Washington Times
In 'Human Givens' Griffin and Tyrrell offer innovative perspectives on promoting effective living. They have synthesized brain and social research in such a way that they provide new templates for understanding how to unlock the best in human nature.

Dr Jeffrey K. Zeig, Director of the Milton H. Erickson Foundation