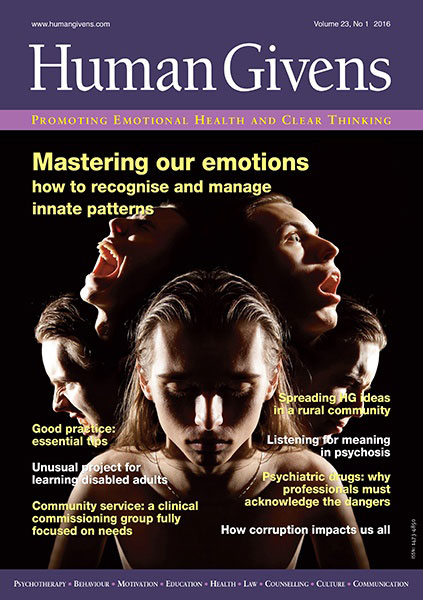 Volume 23, No 1, 2016
Human Givens Journal
Format: A4 Printed Journal (60pp) / Digital PDF Journal (60pp)
ISBN: 1473-4850 (ISSN)
Editorial:
Within the parameters of the rules.
How we are: News, views and information:
Meanings of depression
childhood neglect and its link with schizophrenia
inner voices
kindness and social anxiety
the iPhone effect
how HG differs from other therapies
stress and body temperature
not so SAD
self-awareness in toddlers
tolerance of aggressive partners
how exercise meets needs in early psychosis
status and perspective
using imagery to help in bipolar disorder
Editing our home movies
Pat Williams explores how the stories we may unwittingly spin about ourselves stop us from really seeing.
How to get apples, not cactuses: an organisation fit for purpose
Birmingham South Central's clinical commissioning group meets wellbeing needs of staff and community. By Cherry Dale.
Aspects of good practice
Ian Thomson explores some tricky ethical issues relevant to human givens practitioners.
Coming up roses: lessons in living
Lorraine Trapman describes an innovative project for learning disabled adults in Italy, run on human givens lines.
Innate patterns of emotion
Stephan Perdekamp and Sarah Victoria tell Jane Jones about innate emotional movement patterns and their role in health.
Psychosis: the power in being heard
Denise Winn finds out about the Open Dialogue approach to working with people in psychotic crisis.
Why professionals must admit dangers of psychiatric drugs
Marion Brown describes the action she and others are taking to try to end the long-term suffering often caused by medication.
A patchy project – so far
Janet Donnelly recounts the ups and downs of trying to run workshops on life-coping skills in small rural communities.
Some thoughts on corruption and servility
Ivan Tyrrell argues that the miasma of corruption we all live in subtly affects important aspects of our lives.
PLUS: Book Reviews