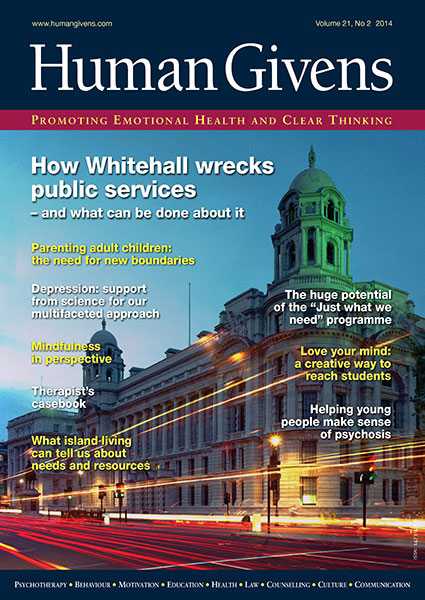 Volume 21, No 2, 2014
Human Givens Journal
Format: A4 Printed Journal (60pp) / Digital PDF Journal (60pp)
ISBN: 1473-4850 (ISSN)
Editorial:
Depression, inflammation and the HG approach
How we are: News, views and information:
Meanings in psychosis
getting perspective
marginal high status
arguments and health
fostering
effortful learning and brain cells
bipolar disorder
drugs and dreams
learning as if to teach
bitter taste's effect on aggression
antidepressant dose effect
limits to wellbeing
cannabis and anxiety
happiness and schizophrenia
power of 'you'
reasons for insomnia
depression and over-optimism
exercising control
The fountain of youth? Just step out of time!
Pat Williams looks at the effects on body and mind of stepping back in time and ponders the possibilities of bi-directional flow.
The brain inflamed
Andrew Morrice explores the role of inflammation in depression and how this links with the HG approach.
"Just what we need": the update
HG practitioners describe what they have learned through offering this creative programme for parents in a variety of settings.
"The land of illusion": helping young people with psychosis
Damian Head describes using the HG approach in his work at an early intervention service.
How bureaucrats destroy public services and what can be done
Ivan Tyrrell talks with John Seddon about the absolute necessity for fundamental change in Whitehall.
Is your mind full of mindfulness?
John Bayley puts the current phenomenon of mindfulness into perspective.
Cultures, in context
Julia Welstead suggests that resourceful lifestyles in small communities may provide a template for healthy urban living.
Therapist's casebook
Andrew Richardson discusses the thriving private and online HG practice that he has built up over 10 years.
When the children grow up…
How Miriam Chachamu helps parents of adult children cope with conflict in changed relationships.
"Love your mind": reaching out creatively to students
A highly innovative approach to enhancing university students' wellbeing and academic success. By Gareth Hughes.
PLUS: Book Reviews, Letters