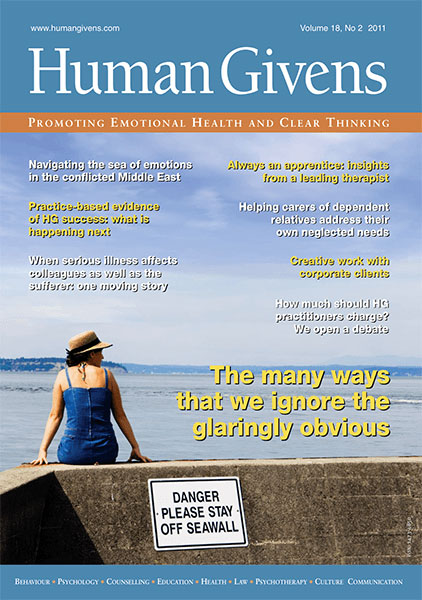 Volume 18, No 2, 2011
Human Givens Journal
Format: A4 Printed Journal (48pp) / Digital PDF Journal (48pp)
ISBN: 1473-4850 (ISSN)
Editorial:
What the evidence does and doesn't tell us
How we are: News, views and information:
Research conclusions
insecure attachment and obesity
eyewitnesses and rapport
how language affects performance
transforming quality of life in care homes
how a nap affects moodtaking
drug companies' influence on ADHD
storytelling in secure units
bipolar symptoms predictable
social connection and empathy
psychosis
anorexia
conformity
test of HG therapy for adolescents
Where do you draw the line?
Pat Williams considers rules applied without discrimination.
High emotion and the Middle East
John Bell explores how the human givens approach could help lower the emotional temperature in Middle East conflicts.
Emotionally contagious ill health
Joy Griffiths describes the wide-reaching impact of serious illness suffered by a work colleague.
Balancing up the business
Janice Haddon's highly successful work with corporate clients, based on the human givens approach.
Ignoring the glaringly obvious
Margaret Heffernan talks with Denise Winn about the dangerous human tendency to avoid seeing what we don't want to see.
The feeling of being cared for
Bindi Gauntlett describes her workshops for carers of dependent relatives that help them address their own neglected needs.
An evident success
We have gathered a great deal of practice-based evidence of effectiveness. Bill Andrews explains what's happening next.
FOR DEBATE: Money, money, money
John Halker raises the sticky subject of therapists' fees.
Reflections on the stories told
Insights from narrative therapy by the late Michael White.
PLUS: Book Reviews, Letters