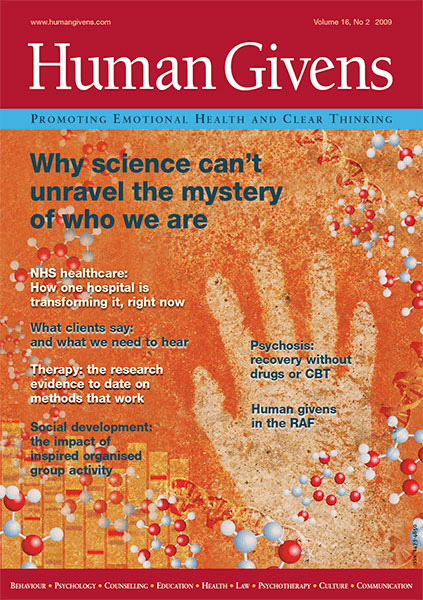 Volume 16, No 2, 2009
Human Givens Journal
Format: A4 Printed Journal (48pp) / Digital PDF Journal (48pp)
ISBN: 1473-4850 (ISSN)
Editorial:
Microscope or telescope.
How we are: News, views and information:
Recovering from psychosis without drugs
cognitive-behavioural therapy and psychosis
breast screening – the unrealised facts
black-and-white thinking
frowning and happiness
unsettled at school
sick notes
teen depression
countering hidden racial bias
weather and memory
attraction
cannabis study
voice blindness
gender-based responses to abuse
the need for social connection
A question of form
Pat Williams explores why new ideas almost always adopt old forms.
Transformation in the NHS
Denise Winn discovers how a determined approach to change is revolutionising care at the Royal Bolton Hospital.
Orchestrating excellence
Charles Callis considers the social potential of organised group activities that are allowed to develop organically.
Therapy: the evidence about what works
There is research evidence to support many positive therapeutic outcomes. Mick Cooper has put it all together.
Brain and mind: an unfathomable relationship?
James Le Fanu tells Ivan Tyrrell why he asserts that reductionist science can never explain the mystery of ourselves.
Dancing out of step
Miriam Chachamu says she doesn't take at face value what her clients tell her.
A life in service
Andrew Jones's effectiveness as a chaplain in the Royal Air Force was completely transformed by the human givens approach.
PLUS: Book Reviews, Letters