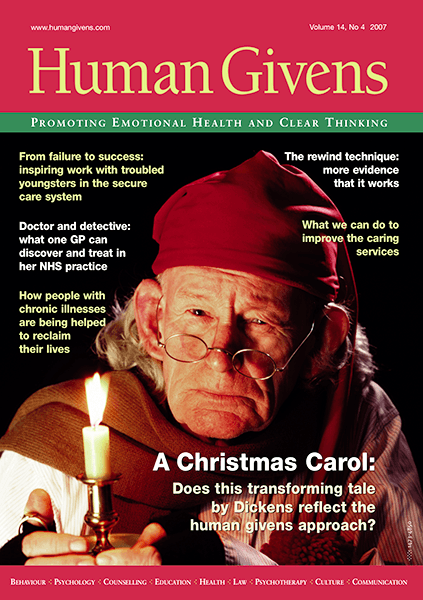 Volume 14, No 4, 2007
Human Givens Journal
Format: A4 Printed Journal (48pp) / Digital PDF Journal (48pp)
ISBN: 1473-4850 (ISSN)
Contents
Editorial: With chronic conditions in mind…
'How we are' – news, views and information on:
Baby DVDs
prejudice and safety
recovering from psychosis without drugs
suicide risk and heat
'disease prestige'
schizophrenia and facial emotions
domestic violence
recovered memories of abuse
can you help Crisis?
symptoms and common smells
panic postmenopause
doodling out of depression
yawning
chocoholism explained
Articles include
Too hot, too cold, and round we go
Pat Williams ponders the problems caused by extremes.
A much-changed practice
Mona Mahfouz's inspiring account of how the human givens approach has totally transformed her practice as a GP.
How to live a full life – despite a disabling condition
Melanie Weeks describes how a project at Hartlepool Mind is helping people with chronic illnesses overcome barriers to change.
A Christmas Carol – or a tale of three therapists?
James Tapper show how this famous tale by Charles Dickens reflects important elements of the human givens approach.
Why the chief executive should take a walk
Harriet Sergeant talks to Ivan Tyrrell about what's going wrong in the caring services.
LEARNING CURVE
Jan Sherlock describes how she gained her confidence in using the human givens approach to therapy.
Learned helpfulness
Steve Osmond illustrates how working with the human givens approach can help young people in the secure care system.
Testing treatment for trauma
Martin Murphy describes qualitative research providing evidence of effectiveness of the rewind technique for trauma.
PLUS: Book Reviews, Letters