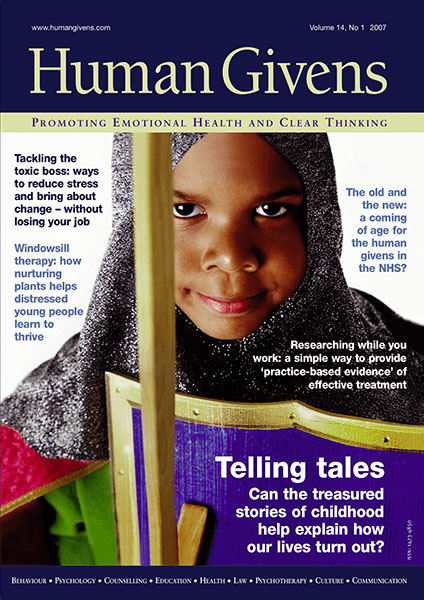 Volume 14, No 1, 2007
Human Givens Journal
Format: A4 Printed Journal (48pp) / Digital PDF Journal (48pp)
ISBN: 1473-4850 (ISSN)
Editorial:
Warmer weather fosters growth
How We Are: news, views and information
Depression and the brain
empathy building
explaining atrocity
pet power
positive messages
stress in pregnancy: risk to children
cholesterol and stress
children and safer road crossing
the 'umbrella test'
doctors who struggle
super brain
believing is seeing
health information
creating expectation for change
money and mind
dementia
left bias
exercise, depression and psychosis
Settled, is it? Or stuck?
Pat Williams looks at what it means to have our feet on the ground
Patterns that persist
Pat Williams shares her discovery that stories particularly treasured – or feared – in childhood can cast powerful 'forward shadows'
Against the law – but in line with the lore?
Steve Davidson investigates whether offending behaviour may be predicted by the stories that offenders were drawn to as children
Human givens and the NHS
Sandwell PCT has incorporated human givens principles into its mental health strategy. Dr Ian Walton assesses the challenges
How to tackle the toxic boss
Jill Walker tells Denise Winn about the strategies that she has devised for helping people stand up to poor or bullying managers
Seeding success
Graham Robertson makes highly effective use of plants in his work with distressed or underperforming adolescents at school
Doing what counts
Bill Andrews explains how all therapists can help provide the hard evidence that the human givens approach works
When time's not on our side
James Hooton describes his work as one of the new mental health practitioners in primary care
PLUS: Book Reviews, Letters