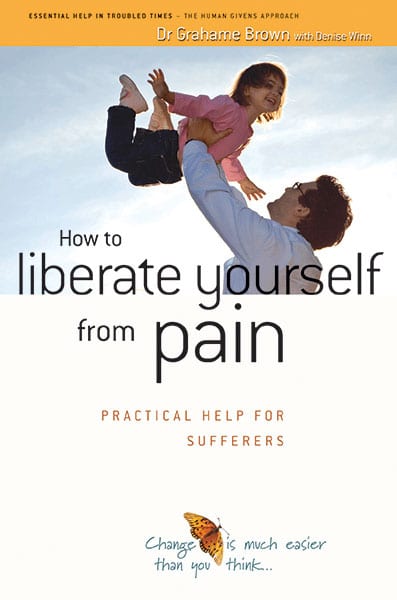 How to liberate yourself from pain
Practical help for sufferers
by Dr Grahame Brown with Denise Winn
Format: Paperback (185pp)
ISBN: 1-899398-17-1
No matter how severe or persistent your experience of pain, it can be diminished – as How to liberate yourself from pain shows.
Down-to-earth, sympathetic and highly readable, this book turns our current understanding of pain on its head. It also readily acknowledges that pain without a clear physical cause is still very real indeed and shows why all pain is a combination of physical and psychological elements.
Packed full of effective, practical techniques for diminishing your discomfort, it shows how to identify and overcome any potential obstacles to getting better and how to 'diagnose' why the pain might be persisting. As the wealth of encouraging case histories show, combining these techniques with insights from the human givens approach has helped countless people overcome all kinds of severe and enduring pain, enabling them to lead productive and fulfilling lives once more. Now it's your turn.
RECLAIM YOUR LIFE – ESSENTIAL INFORMATION:
How all pain can be diminished
Why the language we use when thinking about or describing pain affects its severity
Why fear is the biggest factor in persistent pain
The reasons even doctors misunderstand pain and sometimes unintentionally frighten their patients
Why injured body parts may continue to hurt, even after they have healed
Arthritis or degenerative spinal changes do not have to cause pain
Why 'hurting' is not the same as doing harm – people too often avoid healing exercise because it hurts
Why stress, anger, depression and anxiety all exacerbate pain
How to use the mind/body connection to manage your pain.
Tell others about this course
For anyone suffering from persistent pain this book will become an invaluable tool. With a wealth of case studies, practical skills and comprehensive information - this book will transform your understanding of pain, and in doing so, diminish it.

H. R. Roberts
A MUST read book for people with chronic pain

J. Harford