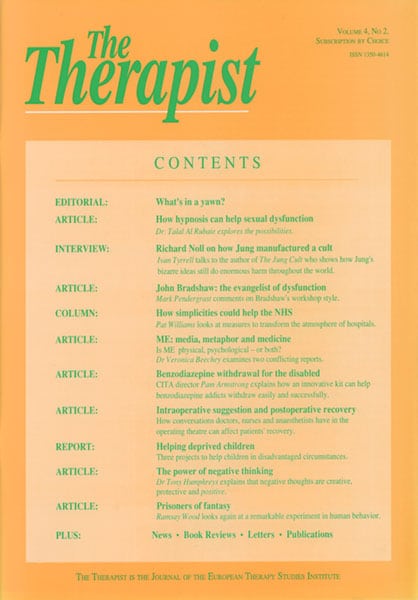 Volume 4, No 2, 1997
The Therapist
Format: A4 Printed Journal (48pp)
ISBN: 1467-5676 (ISSN)
Editorial:
What's in a yawn?
Articles:
How simplicities could help the NHS
Is ME physical, psychological — or both?
Intraoperative suggestion and postoperative recovery
Helping deprived children
The power of negative thinking
A film that exploits its audience
How hypnosis can help sexual dysfunction
Richard Noll on how Jung manufactured a cult
Ivan Tyrrell talks to the author of The Jung Cult who shows how Jung's bizarre ideas still do enormous harm throughout the world.
John Bradshaw: the evangelist of dysfunction
Mark Pendergrast comments on Bradshaw's workshop style.
Benzodiazepine withdrawal for the disabled
CITA director Pam Armstrong explains how an innovative kit can help benzodiazepine addicts withdraw easily and successfully.
Prisoner of fantasy
Ramsey Wood looks again at a remarkable experiment in human behaviour.
PLUS: News, Book Reviews, Letters, Publications