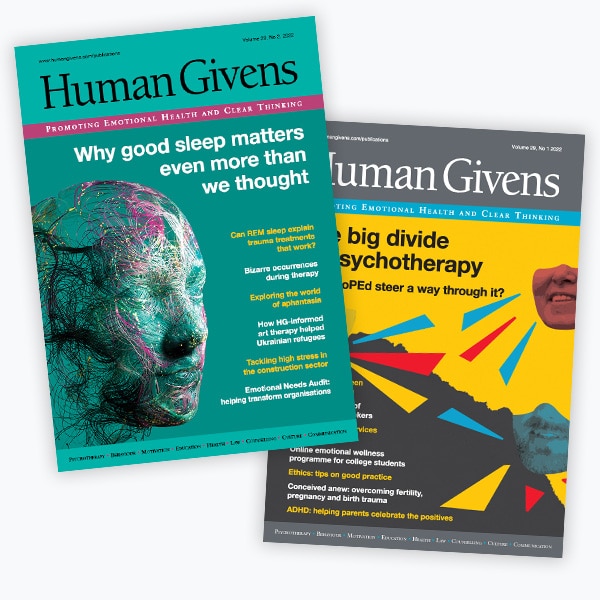 Subscribe today
2022 Journal subscription
Human Givens Journal
Format: A4 Printed Journal (60pp), published biannually (June and December)
ISBN: ISSN: 1472-4830
One year's subscription to the liveliest, most thought-provoking, peer-reviewed, biannual magazine about psychology, human behaviour and mental health.
With a valuable, extensive round-up of the latest research, inspiring articles, book reviews, interviews and more in every issue, it's a great way to keep up-to-date! You'll discover how people from a variety of different fields are using HG to transform the lives of the people they work with, and much more…
(Issues published in June and December.)
Outstanding content - very useful. I always look forward to my next issue

Anne
Advertisement-free, the HG Journal is jam-packed with fascinatingly articles and interviews, news items, relevant research findings, book reviews and letters – it brings you some of the most inspiring stories and case histories available as well as new ideas for improving mental health and social care provision, education, healthcare, public and private sector organisations, society in general and much more…
To read about what's in the current issue, click here.
UK Subscription – £30
International Subscription – £38
Prices include postage
SAVE £5 – when you subscribe to the Journal by Standing Order
If you have a UK sterling bank account, you can SAVE £5 by taking out your subscription to the Human Givens Journal by standing order.
Simply call us on 01323 811690 for our bank details in order for you to set this up on your on-line bank account. Once the payment is received, we will start your subscription.
A standing order subscription costs £25 a year if you live in the UK (normally £30), and £33 for international delivery (normally £38).